Recommendations for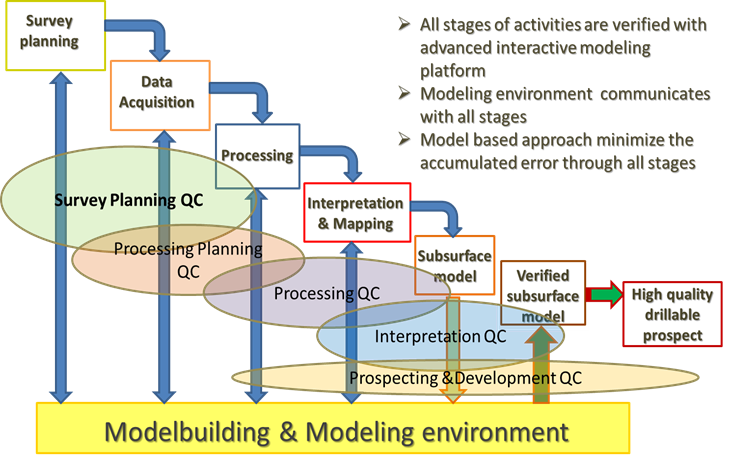 the survey planning based on evaluation of resolving capability of the seismic method for any given geologic scenario and acquisition geometry.
Endorsement for seismic data processing workflow basing on modeling of any type of seismic records such as conventional surface seismic, micro-seismic, VSP, and high frequency well log simulation.
Verification of robustness of any given seismic interpretation for reality of the reflected discontinuities and structural elements.
Identification of potential processing artefacts not tied with the medium model structure that may lead to interpretive errors.
Estimation of horizon illumination under lateral heterogeneities using ray-tracing approach.
AVO-modeling or anisotropic, porous, fluid saturated, visco-elastic, thin layered media, and curved boundaries complicated by changing physical properties both vertically and laterally.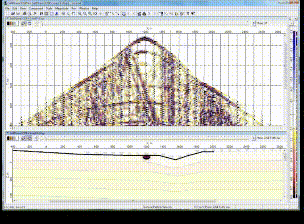 The wavefield time slice (snapshot) analysis allows visualize the particle displacement velocity for Z, X, Y, and hydrophone components of the propagating wavefield, and to easily distinguish the down going and the reflected waves of various types.
Demonstration data sets for geophysical software evaluation and development. Allowing the user to fully understand the strengths and weaknesses of the new technologies so that the adoption cycle time may be greatly reduced.
Presentation (report, training course) enabling a clear understanding of the complexities of seismic signal mode conversion, multiples, the creation of surface related noise, etc.